Welcome to the PixelLoaf Wiki
Everything related to the art, game modding, and game development community PixelLoaf, including the Discord community and the games we are writing.
Who We Are and What We Do
We are a community of artists, who grew out of a Mario video game fan forum (Runouw.com, now dead, though their wiki is still up), and have moved on to making games and mods ourselves. We've had a lot of forum experience, but are currently Discord focused, so while all the activity is on Discord, there's some remnants of our forum roots giving us some areas that your usual Discord-born community might not have. We also have a medium-large size membership (well over 100 now), including people with talents in all the arenas of game design from programming to music. We have a number of Projects in the works, too. Finally, since this is both our work area, and our general hangout, there's plenty to do that has nothing to do with game development. For example, our writers enjoy roleplaying. A lot.
We also take serious discussion VERY seriously, so there are several Serious Discussion areas, all with fairly strict rules on flaming, yet REALLY open minded otherwise, and exist for people to feel safe talking about truly serious stuff. A number of our members have dealt with suicide and other serious problems, and we've developed an overall philosophy that works well for us, and that we enjoy sharing with others that need help.
Latest activity
NEWS
posted 4/3/2019 by yuri
Hey everyone, our server has custom colors for everybody now! On top of the regular loafer color, all members now have 14 different colors to pick from. Get yourself a new color on #custom_roles~ (All colors are named after toast toppings btw!)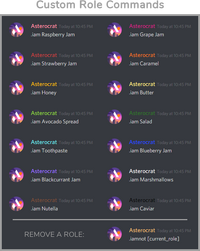 HELP WANTED
Want to make this wiki all that it could be?
Want your name in shining lights?
Just DM Doram in Discord with
I wanna help the WIKI!